Electric Vehicles Survey Result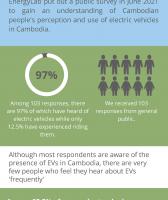 Date of publication: October 2021
Institution: EneryLab
Author: Climate Climate Change Alliance Phase 3
Language: English
Type: Document
Page: 4

The market for electric vehicles is growing and electric vehicles are now present in Cambodia. But there seems to be a barrier for them to compete in the Cambodian market. Is it the lack of understanding of electric vehicles or misconception that  is the obstacle?
EnergyLab put out a public survey in June 2021 to gain an understanding of Cambodian people's 
perception and use of electric vehicles​ in Cambodia.