A Third Study on Understanding Public Perception of Climate Change in Cambodia: KNOWLEDGE, ATTITUDES, AND PRACTICES (KAP3)_EN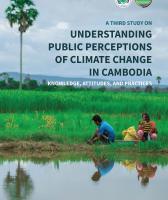 Date of publication: June 2021
Institution: Ministry of Environment (MoE), National Council for Sustainable Development (NCSD)
Author: CCCA3/DCC/GSSD
Language: English
Type: Document
Page: 167
This study forms part of a series of knowledge, attitudes, and practices (KAP) studies commissioned by the National Council for Sustainable Development (NCSD), through its Department of Climate Change (DCC) and working with the Cambodia Climate Change Alliance (CCCA).
These series report and analyse Cambodians' understanding and engagement with issues around climate change. Conducted in 2010 (KAP1), 2015 (KAP2), and 2020 (KAP3), they aim to generate evidence of Cambodians' experience of changes in the weather and their environment to inform future communication strategies and government interventions.
This study (KAP3) took a mixed methods approach. The research team conducted a nationally representative survey with 1,560 people in Cambodia, across five regions (Phnom Penh, Plain, Mountain, Tonle Sap, and Coastal) and provinces. In addition, it conducted qualitative research through in-depth interviews and focus group discussions with community members (men, women, vulnerable groups, local influencers, and village chiefs), and key stakeholders such as representatives from the government ministries, senate, national assembly, media agencies, universities, the private sector, and non-governmental organisations (NGOs).
KAP3 adopted a different questionnaire approach from the previous KAP studies to gain a robust understanding of communities' perceptions of climate change.2 For example, respondents were asked to reflect on changes in the weather, the environment, and available resources they had experienced and any actions they had taken around these issues. Comparisons between KAP3 findings and those of previous KAP studies have been made where possible.