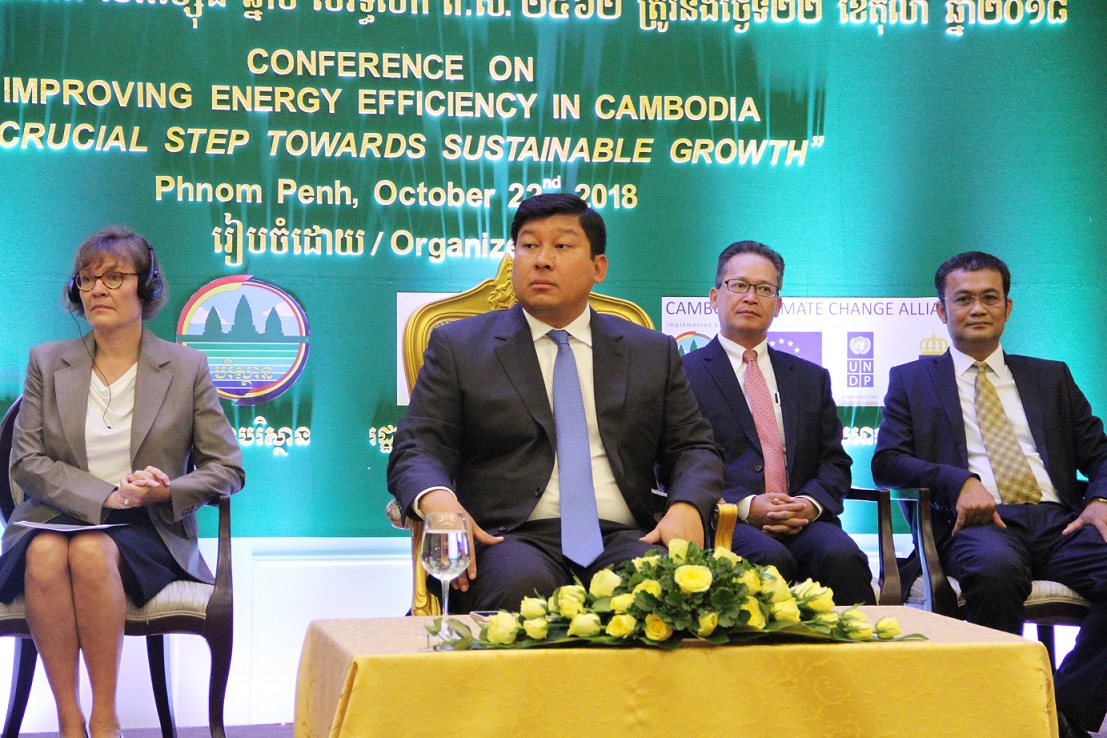 Phnom Penh, 22 October 2018 – H.E. Say Samal, Minister of Environment as well as chair of the National Council for Sustainable Development (NCSD) considered that "Improving energy efficiency in Cambodia is a mayor factor that enables sustainable economic growth and low carbon emissions in Cambodia.
This was said during the inauguration of the conference "Improving Energy Efficiency in Cambodia: A Crucial Step towards Sustainable Growth" co-organized by the NCSD with support from Sweden embassy and Cambodia Climate Change Alliance (CCCA) at Raffle Le Royal Hotel.
Speaking at the opening session, H.E. Minister and Chair of the NCSD suggested improve education and extension to all levels of energy users from individuals, households, enterprises, communities, and to societies as a whole, to change their behavior turning to focus on energy efficiency, which will reduce their expenditure and maximize the benefits.
He further emphasized that increasing energy efficiency does not mean reducing development activities, slowing down economic growth or reducing the quality of life of the people, but it is essential to ensure sustainable development, a "win-win" approach for all of us: win for consumers, win for businesses and investors, win for environment, win for combating climate change and win for energy security.
"Energy efficiency is essential to Cambodia's objective of having a sustainable growth. Sweden itself has made major improvements in the last thirty years both in promoting renewable energy and in improving energy efficiency, while achieving economic growth, said by H.E. Maria Sargren, Ambassador of Sweden to Cambodia.
Mr. Nick Beresford, UNDP's Country Director, underlined the collaboration of UNDP with government of Cambodia that, UNDP Cambodia has worked with the Ministry of Mines and Energy under Sustainable Energy for ALL (SE4ALL) initiative Since 2012 in support of the Government's priorities on energy access, energy efficiency and renewable energy. We have also been working closely with the National Council for Sustainable Development under the CCCA project and supported the energy and industry sectors in promoting climate sensitive energy measures, including solar.
A total of approximate 152 people, including 36 women who are national and international specialized speakers and representatives from governmental ministries, academia, research institutions, private sectors and civil societies brought together to identify best practices and tools that can promote energy efficiency initiatives in Cambodia, which can accelerate Cambodia's shift to more sustainable modes of development and contribute to reducing greenhouse gas emissions.