UNDERSTANDING THE EFFECTS OF HEAT STRESS ON LABOUR PRODUCTIVITY IN CAMBODIA'S GARMENT INDUSTRY, CONSTRUCTION AND EDUCATION SECTORS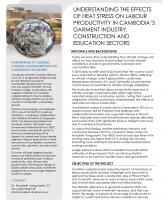 Date of publication: October 2021
Institution: Institute of Technology of Cambodia (ITC)
Author: Climate Climate Change Alliance Phase 3
Language: English
Type: Document
Page: 2
Today we know that understanding how climate change can affect our lives and how to best adapt to future climate conditions is crucial to governments, businesses and communities alike.

A 2018 study by MEF and NCSD found that the country could see a reduction in absolute GDP by almost 10% by 2050 due to climate change, even if global efforts could keep temperature rise below 2oC and Cambodia could maintain current levels of investment in climate change adaptation.

The study also found that labour productivity losses due to climate change could particularly affect agriculture, manufacturing and construction sectors, noting that current adaptation activities particularly underestimate the effects of heat stress on labour productivity.

A preliminary research conducted in Cambodia in 2016 by a research team, led by Professor Tord 
Kjellstrom with collaboration from H&M and a garment factory in Phnom Penh, indicates that current 
heat levels are already affecting work productivity (with significant losses in daylight work hours 
due to workplace heat levels).

To support this finding, another preliminary research was conducted between 2019 by a research 
team, led by Dr. Kinnaleth Vongchanh. The WBGT level around day time in the working area was higher than 27oC during very hot day, indicating more attentions should be made towards indoor working conditions.

Longer period of observation is needed to provide better estimates of these impacts that can inform 
potential measures to be taken by private sector and government.