The Cambodia Energy Efficiency Competition quarterly report-2022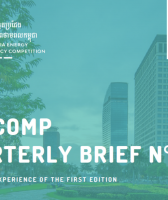 Date of publication: 04 April 2022
Author: Institute of Technology of Cambodia and Sevea
Language: English
Type: Document
Page: 10
The Cambodia Energy Efficiency Competition is an innovative competition between buildings seeking to boost energy efficiency by addressing behavior change through games and internal challenge. Our aim is to increase awareness and responsibility, foster collaborations and creativity among the teams, while providing accessible and easy solutions according to the needs.

This project is inspired by a European competition that has successfully completed 5 editions. It is funded by the Cambodia Climate Change Alliance, who is itself funded by the European Union, Sweden and UNDP. The competition is also sponsored by Schneider Electric.
This report aims at sharing the results of the CEE Comp and providing key information on energy consumption in Cambodian commercial buildings. By doing so, the quarterly reports shall help Cambodia's Energy Efficiency sector to capitalize on the learnings of the project to inform policies and programs.