Why Payment for Ecosystem Services is a Cost-Effective Strategy for Climate Change Adaptation and Mitigation?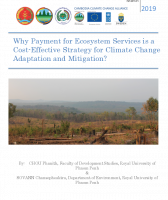 Date of publication: March 2019
Institution: Royal University of Phnom Penh (RUPP)
Author: Va, D., RUPP
Language: English
Type: Document
Page: 10
This policy brief aims to provide scientific reasons why payment for ecosystem services is a cost-effective measure to prevent us from any climate-related disasters. This study selects Mondulkiri province for the case study because it is the largest remaining relatively undisturbed landscape in mainland Southeast Asia, the most critical site for biodiversity conservation in Cambodia.